Hello My Fellow Art Lovers-


"I laughed at love 'cause I thought it was funny, You came along and you moved me honey" I've changed my mind, this love is fine, Goodness gracious, great balls of fire!
- Jerry Lee Lewis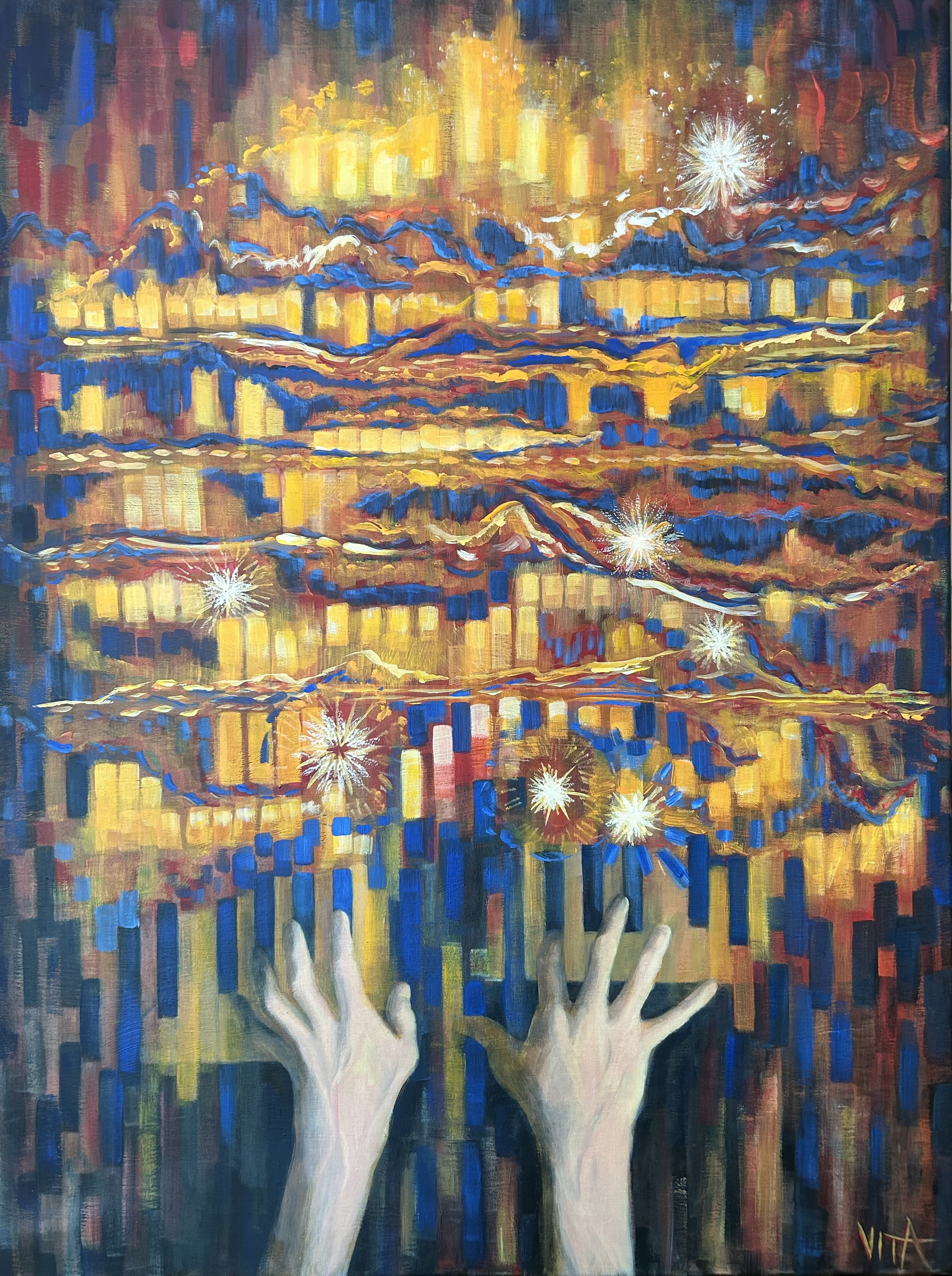 Great Balls of Fire, Hirschten

(Is it finished? That is the question.)

Continuing with my music series... this latest painting depicts the song Great Balls of Fire by Jerry Lee Lewis.

To create the patterns I listened to the song over and over again. I also looked at the sheet music... but the black and white notes on the page just can't convey the ENERGY of the song. That is what I am trying to paint, the emotion of it.




The beginning of this painting looked like this....



This idea of painting music is not new. In 1911 Kandinsky went to a piano concert of Schoenberg's music and created this piece...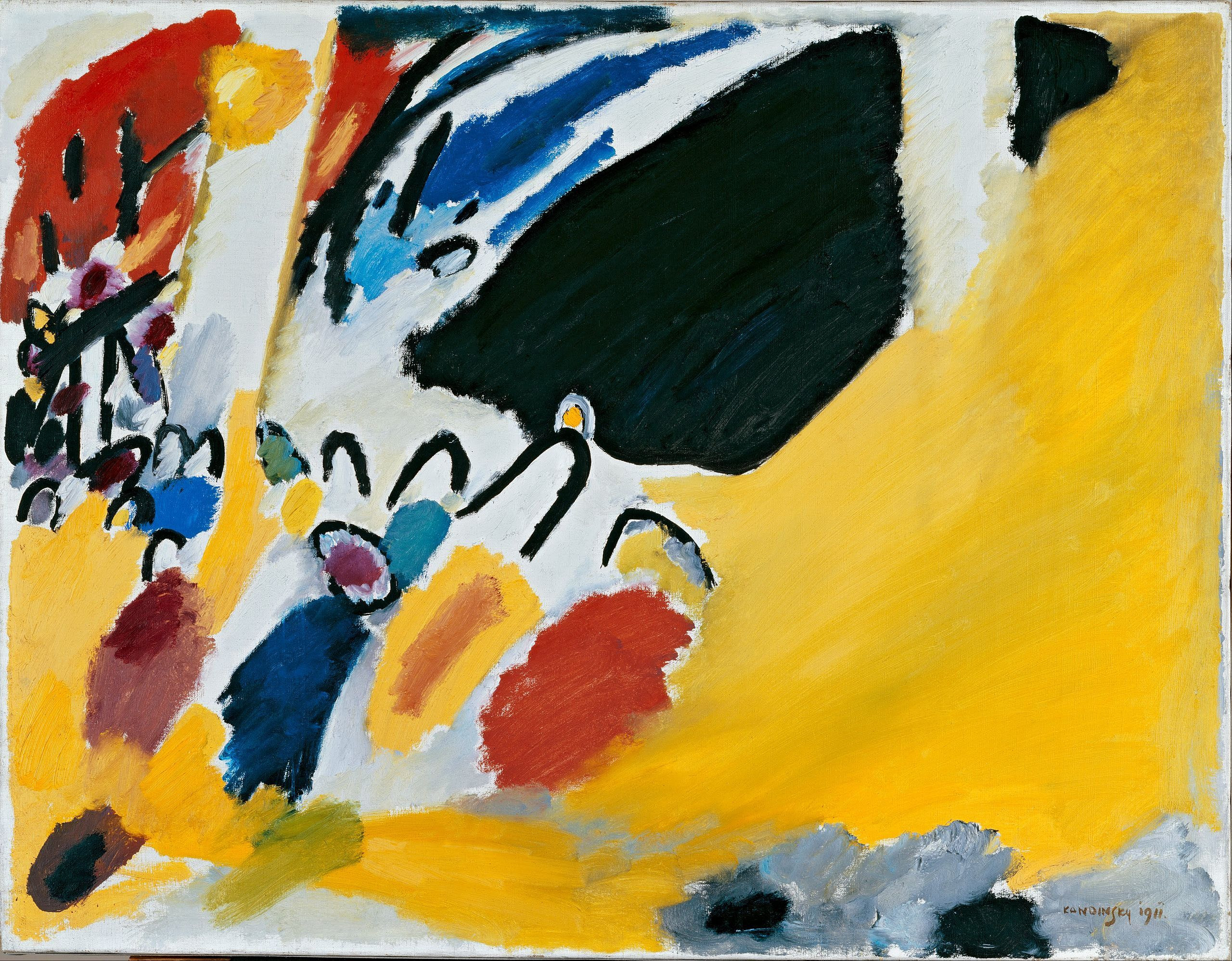 Impression III, Kandinsky 1911

The large black form is the piano. The colors are meant to evoke the tone of the piece.

And now I ask myself if my Great Balls of Fire Painting is finished... does it express the song?




On one level the arts can never completely express our emotions. But I think that Great Balls of Fire does a great job of coming very close to expressing that raw energy of love. Can I mirror that?




Yup. All I can do is try.

Then maybe, just maybe, you will feel that same energy as you look at the painting.

And you will hear what I am trying to say.


---
Join us for upcoming art classes at the studio:


Painting Trees - 4 Weeks, Thursdays August 3-24 9am-Noon $220
Since ancient times artists have honored trees as a sacred symbol of life and vitality, and you can too! In this 4-week class we will create paintings inspired by traditional symmetrical tree designs as well as realistic forms. This is an excellent class for both beginning and advanced students. All materials provided.



Landscape Painting - 4 Weeks, Wednesdays August 30-Sept 20 6-9pm $220
In this 4-week class we will create a variety of landscape paintings while learning basic contemporary impressionist techniques. We will enrich our painting skills by focusing on how to create atmosphere, realistic perspective, and a well-balanced composition. Advanced and beginning students welcome. All materials provided.



Learn to Draw - 7 Weeks, Wednesdays October 4- Nov. 15, 6-9pm $320
Are you interested in learning how to draw? In this class we will learn many techniques for drawing so that you can gain control over your artistic projects. Drawing can be a meditative process that can help you to focus your mind and appreciate the beauty in subtle details. Together we will do exercises to learn to notice the patterns of our world and create dynamic designs. All materials provided.


Create Your Visionary Life Plan - 2 Weeks, Saturdays Oct 21 – Oct 28 1-4pm $110
In this unique class we will create vision board collages and journal in a notebook that will become our life plan. Part art class and part self-help we will answer questions that will help guide us into our next stage of life. Together we will support each other as we cover a wide variety of topics such as our dreams, ideal day, vacation plans, career, relationships, and health. Pulling it all together we will create concrete action plans. All materials provided.


Painting Club Thursdays Afternoons 1-4pm or Thursday Evenings 6-9pm 4 Sessions $80
Create your own projects in our warm and inviting painting studio. Your instructor will be there to support you, answer questions, and share inspiring readings as you develop your own style and voice. Bring your own materials and a sense of humor!

And yes there are more one-day workshops available too! Like...


See the full list of classes at: https://studioalchemy.art/classes-at-the-studio



Together we make things happen!

What are you wanting to say? How can you express it with your creative voice to break the silence? When we come together in community we listen and grow together. I am looking forward to seeing you in class!

May you grow toward the light and as always...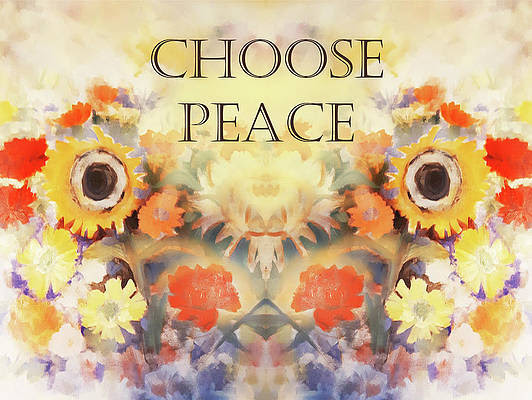 Choose Peace, Prints available here



I am working on my upcoming book on SYMBOLISM!
Stay tuned for the more juicy symbols and art philosophy as I swim through this material.


Would someone you love be inspired by this message? Feel free to share